Manage your expenses with Expensify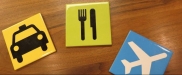 Are you surrounded by mountains of receipts? Are you looking for a simple app to help you and your team manage expenses easily? What if you could conveniently scan and record your expenses at the click of a button?
We can vouch for Expensify. It's a fantastic little app that will prevent that paper mountain we all fear.
We hate boring old expenses. But when we're delivering CRM training across Europe, this app is a godsend for managing our travel expenses. Even the standard reports that are included are pretty smart.
'Beware of little expenses. A small leak will sink a great ship.' - Benjamin Franklin
Expensify is free for personal use. Or there are three pricing options for business use, depending on the size of your team and the features you need.
Click the View link button to try out Expensify for free.