Learn to write web copy that gets read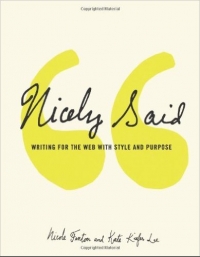 by Nicole Fenton and Kate Kiefer Lee
If you're struggling to find the right words and tone for your website, you must read this excellent book. It's refreshingly easy to read, absorb and apply. We love how it gives you permission to write as you speak, as though you're simply having a conversation.
If you buy one book to help you write web copy, we urge you to make it this one. We only wish we'd found it sooner, since it articulates much of our own thinking about web content.
Buy it, read it and get writing. This book will convince you that writing for the web doesn't need to be hard.
p.s. If you read this book and are still left thinking that writing web copy sounds like too much hard work, then get in touch. We'd love to write your website content for you.
'Nicely Done' is even better than 'Nicely Said', don't you think?