Eight cool photo effects to give your images the wow factor
8 cool photo effects to give your images the wow factor
When you've spent time writing a fantastic tweet, an important Facebook post or your latest blog post and are ready to publish it, how much time do you spend on the accompanying image?
Usually, it's the final step everyone takes and is frequently rushed.
Recently, there's been a lot of evidence showing the positive – and powerful - effects of images in social media and on the web.
Did you know…
tweets with images receive 150% more retweets than tweets without images?*
Facebook posts with images see 2.3X more engagement than those without images?*
Aren't those statistics just jaw-dropping?
From jaw-dropping to thumb-stopping images
Imagine taking a little extra time to find and then enhance an image to go with your next post. An image that is not only connected to the content, but so striking that it stops the reader scrolling in order to read your post.
Take a look at our latest infographic showing some creative and eye-catching ways to add the 'wow' factor to your photos. All the effects are easily achieved with free apps, so you can have fun adding impact to your images.
Why not try adding some shimmers and sparkles to your New Year's Eve photos this year? If you'd like to share some of your creations with us, please mention Vanessa Hunt Consulting and use the relevant hashtag below:
#coloursplash #shimmerandsparkles #pixelation #collage #tinyplanet #duotone #artphoto #blackandwhite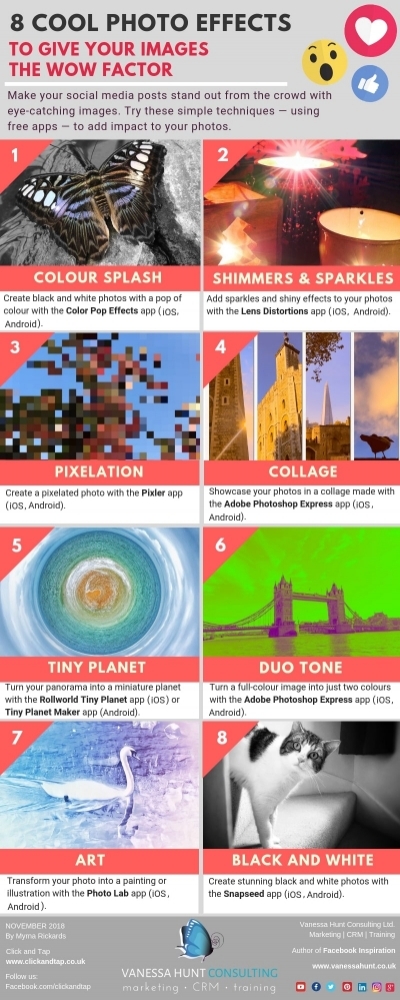 We'd love to hear which effect you love most in the comments!
You can download the PDF version of this photo effects infographic.
For even better results, use this cool images infographic alongside Vanesssa Hunt's small business marketing book: Facebook Inspiration: 30 days of creativity for your page
Source
* https://blog.hubspot.com/marketing/visual-content-marketing-strategy
Visit us again in 2019 for the latest advice about the use of powerful images in your content marketing
We'll share more tips on how to select striking images for your blog posts and social media updates. If there are any other topics you'd like us to cover in the New Year, please send your suggestions to Vanessa Hunt for her review.
Friday, 28th December 2018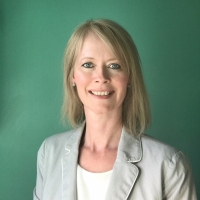 Written by Myrna Rickards
Myrna started her career as a teacher of Modern Languages and English as a Foreign Language, and during her time teaching adults in Oxford, she began studying computing and web design. She then embarked on a web marketing career at Macmillan Publishers and Oxford University Press. In 2011 she launched her freelance marketing business Blue Gem Marketing which allowed her to work at home and look after her two children. She recently launched a new business, Click and Tap Computer Coaching, which helps people to make the most of their computers and tablets. She now combines her freelance marketing work with teaching computer and digital skills to individuals and groups. She blogs about social media, e-safety and small business marketing, resources and advice.