Facebook Business Page Checklist [Part 2]: Optimise and grow your Page
Get the conversation started on your Facebook page by following these 11 steps
When you've fully completed your Facebook page, it's time to check that you're taking advantage of the features and settings that will help you optimise and grow your page.
With just a few simple tweaks to your Facebook settings, you'll have an even more professional-looking, successful and hard-working page, ready to engage your followers.
For example, did you know…
…you can invite people who are not your friends to like your page?
…you can send an automatic instant reply to anyone who messages your page?
…you can make the most of the See first feature to ensure your posts get seen?
I've created a checklist with 11 simple steps you need to take to help you optimise and grow your Facebook page.
Log in to your Facebook page on a desktop (the instructions in the infographic are for the desktop version, but you can access the settings on your mobile, too) and follow this checklist.
In case you missed Part 1
Read our Facebook business page checklist [Part 1] to ensure your page is fully completed before you follow Part 2.
Once you've made these changes, you can be confident your business has a positive and professional presence on Facebook. And be sure to share the final result with Vanessa Hunt Consulting on Facebook, won't you? We'd love to see the result!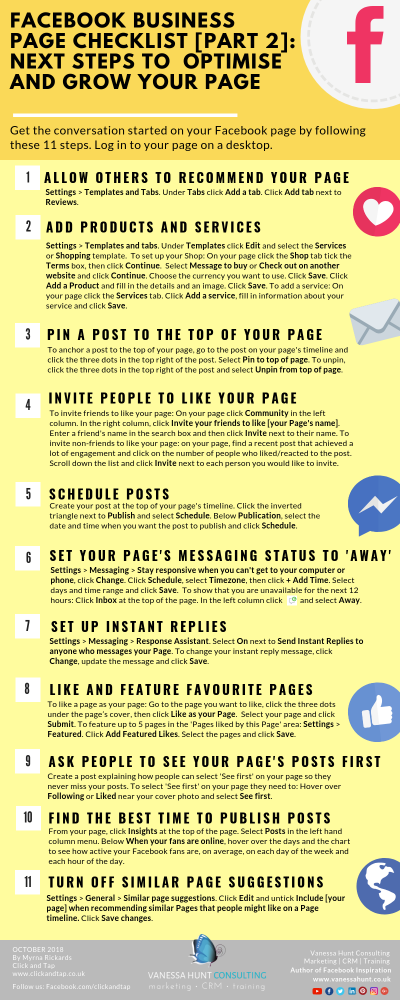 You can download the PDF version of the infographic.
Remember to read Part 1 about how to get your Facebook page ready first. For best results, use both infographics alongside Vanesssa Hunt's small business marketing book: Facebook Inspiration: 30 days of creativity for your page
Visit us again in December for something sparkly!
Don't forget to come back next month for our December infographic which includes tips on how to create images that capture attention on your Facebook page, as well as other social media platforms. We especially like the feature that makes them sparkle - just in time for celebrating the New Year!
Thursday, 22nd November 2018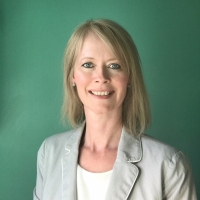 Written by Myrna Rickards
Myrna started her career as a teacher of Modern Languages and English as a Foreign Language, and during her time teaching adults in Oxford, she began studying computing and web design. She then embarked on a web marketing career at Macmillan Publishers and Oxford University Press. In 2011 she launched her freelance marketing business Blue Gem Marketing which allowed her to work at home and look after her two children. She recently launched a new business, Click and Tap Computer Coaching, which helps people to make the most of their computers and tablets. She now combines her freelance marketing work with teaching computer and digital skills to individuals and groups. She blogs about social media, e-safety and small business marketing, resources and advice.