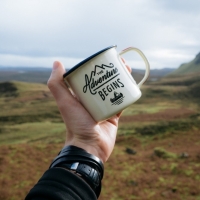 'Facebook Inspiration' supports Chris & Charlie's Adventures
I'm happy to receive book reviews of Facebook Inspiration any day of the week, but this one was particularly pertinent. Facebook Inspiration: 30 days of creativity for your page was first available on Amazon on 2nd March 2017, and I received this review the day after the book's first anniversary.
How did Facebook Inspiration cross paths with Bill Bryson?
I wrote the book to help anyone with a Facebook page (or group) generate conversation and interest in their page, helping it reach a wider audience organically. So when I first stumbled upon Chris and Charlie's Adventures page, and saw that their page was relatively new, I shared details of my book with them. Having read A walk in the woods by Bill Bryson a few years ago, I was particularly interested in Chris and Charlie's walking adventure.
I was delighted that they offered to review it for me. And even more delighted when I received this detailed review, published originally on their website, Chris and Charlie's Adventures.
Read full post »